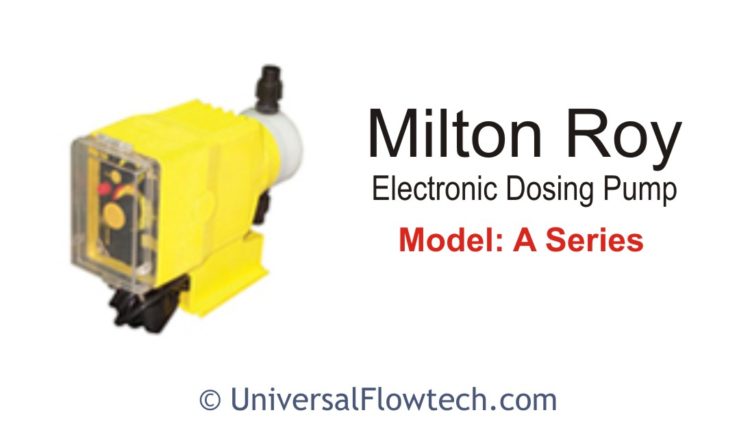 A Series – Milton Roy Electronic Dosing Pump
Key Specification Features
Electronically Operated Mechanically Actuated Diaphragm
Solid state encapsulated electronics
Compact size
Light weight
Low Maintenance
High Precision ball and seats for reliable sealing
Manual stroke length control adjustable while running
Manual/Automatic speed control adjustable while running or stopped
Steady State Accuracy of +-2%
Tolerance on Max.capacity 0 to +25%
Repeatability +-5%
Composite PTFE faced Hypalon Diaphragm for longer life.
Electro Magnetic Drive: Less moving parts.
Low Power Consumption
Liquid end material of construction in PP, PVC,PVDF, SS316
Suction lift 1.5 mwc max.
Typical Dosing Pump Models:
Model No.: A-09, A-79 & A-99: (Max.Flow:1.0 LPH@12 Kg/cm2)
Model No.: A-10, A-70 & A-90: (Max.Flow:2.0 LPH@10 Kg/cm2)
Model No.: A-11, A-71 & A-91: (Max.Flow:4.0 LPH@5.5 Kg/cm2)
Model No.: A-12, A-72 & A-92: (Max.Flow:6.0 LPH@3.5 Kg/cm2)
Model No.: A-13, A-73 & A-93: (Max.Flow:12.0 LPH@2.0 Kg/cm2)
Notes:
Drive details: Electromagnetic Power Unit (EPU) 230V,50Hz. Single Phase AC
Max. Speed: 100 SPM
Discharge end Connection 1/2″ NPT(M)
Model Suffix "L" comes with Milton Roy Standard Float Type Level Switch with in-built pump trip Eg: A13L
Optional: Unique Four Fuction Valve (FFV) for Positive Anti-syphon, Priming Aid, back pressure, pressure relief available on all pumps exept "V" Series and D-14 Models and pumps with rated pressure 2 Kg/cm2
A-79 to A-73 / B-71 to B-73 / D-70 to D-74: Instrument responsive pumps will accept modulated frequency signal.
A-99 to A-93 / B-91 to B-93 / D-90 to D-94: Instrument responsive pumps will accept 4-20mA signal.
Pumps are provided with Foot Valve, Anti-syphon Valve and 3 meters LDPE tubing. Y strainer optional instead of Foot Valve.
Power Consumption:

Approx. 40Watts for A & V models
Approx. 75Watts for B models.
Approx. 100Watts for D models

For "V" Series pumps speed control is not availble.
"V" Series pump is available in "PP" (Liquid end MOC) only.
 Foundation details: For A, V, B, D use four numbers 5mm screws in slots provided